Irish music Week in Ballybunion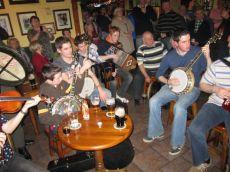 From June 18th to June 23rd 2013 the demand is high at Ballybunion with the County Irish Music festable taking place.
Set daning & irish music to open air concerts around Ballybunion town awaits you in June 2013.
Two Nights Special Offer
Enjoy two wonderful nights Bed and Full Irish breakfast in Ballybunion Guesthouse in our Double / Twin room, 2 people sharing
In turn on all booking made through this web site on arrival to your room a bottle of wine await's you.
Ideal Gift or Romantic getaway or a midweek treat.
What about a weekend away withsome special !

Double Twin room rates of €90.00 per person for two nights B&B apply or €45 per person each night full bed and breakfast.