St Johns Theatre, Listowel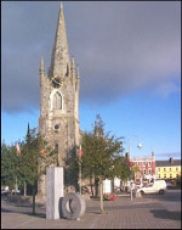 In 1988 a local voluntary committee began
the transformation of the then Church of Ireland
building into what is now St. John's Theatre & Arts Centre.
The restoration project, costing £250,000 Ir, was completed in 1990.
Theatre, Music, Dance & Visual Arts
Since then St. John's has become a premier venue in the South West for the promotion of a monthly programme of Visual and Perfoming Arts, featuring the best local ,national and international product in Theatre, Music, Dance and Exhibitions. Annually St. John's hosts approximately 160 Arts events comprising of 80 Theatre presentations, 60 Music/Dance events and 20 Exhibitions.
Education Programme
Youth performance workshops in Drama, Music, Contemporary Dance and Traditional Arts cater for approximately 150 Primary and Post Primary Students weekly during the school year. A drama and summer school runs from July and August each year.
An integral part of the Education Programme are the follow-up stage presentations.
St Johns Theatre, Listowel
St Johns Theatre, Listowel Accomodation
The Tides B&B in Ballybunion has special offers to suit most budgets to meet with the current climate we live in. So why not make a weekend or midweek break and include the St. Johns Theatre as part of your get away package.
Give us a call on 0866000665 or send us an e-mail below.