Listowel Fishing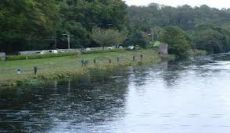 The River Feale is rated as one of the outstanding Salmon and Sea Trout rivers in Ireland. In a good season it is estimated to produce at least 1,500 Salmon and Grilse and well over 2,000 Sea Trout to rod and line.
The river rises in the mountain region of county Cork and in it's meandering 46 mile journey to the Atlantic ocean it flows through a picturesque landscape of bogland, fertile valleys and rolling hills. In the middle to lower regions it is a big river mostly gravel bed, dominated by large deep fishing pools with natural bank vegetation for cover. Wading is necessary in most stretches, especially when fly-fishing.
However a fairly competent angler equipped with a 14' rod, a pair of chest waders and a wading staff will find that practically every part of the river is accessible. Nine miles from the estuary the Feale dissects Listowel town, capital of north Kerry. The town waters has 4 main Salmon pools which have been recently been re-developed.
This offers tourist anglers a choice of fishing in a rural setting or the convenience of fishing in the recently refurbished town waters. This stretch also provides very good Sea Trout fishing. Over the past few years the local angling club the "North Kerry Anglers Association" has invested in the region of £100,000 on in-stream development works . About 2 miles upstream of Listowel town the largest tributary the Smearlagh river joins the Feale. This is a fast flowing river of about 10 miles in length with good Salmon and Sea Trout fishing.
It offers a challenge to those anglers who will change their tactics to suit the prevailing conditions. With the right water conditions it will give a rich reward and bring the visiting angler back time and again.
The "North Kerry Anglers Association" issues daily & weekly permits for fishing on 9 miles of the Feale & Smearlagh rivers
Listowel Fishing
Listowel Fishing - Two Greatest Rouges !
Caught in the Joining on an Ally Tube, caught & released without any harm. * Fish weight 12llb 2oz's
Listowel Fishing Accommodation
The Tides B&B in Ballybunion has special offers to suit most budgets to meet with the current climate we live in. So why not make a weekend or midweek break and include the Listowel Fishing as part of your get away package.
Give us a call on 0866000665 or send us an e-mail below.